On-site worship services with
COVID 19 related
safe distancing guidelines & cleaning practices in place have
resumed.
Any who feel sick, are health-compromised, or don't yet feel comfortable meeting in person, are encouraged to remain home and continue participating with us on-line.
Live-streaming of our services via Facebook Live continues and begins @ 9:45 each week
Online Facebook Live
Worship
9:45am
We are grateful we are still a church community regardless of whether we join together in person or through our on-line environment. May our Gracious God be pleased to continue to transform our lives through His Word, His Spirit, and His people
In times like these, it is good to be reminded of Paul's words,

The Lord is at hand; do not be anxious about anything, but in everything by prayer and supplication with thanksgiving let your requests be made known to God.
And the peace of God, which surpasses all understanding, will guard your hearts and your minds in Christ Jesus.

(Philippians 4:6-7 ESV)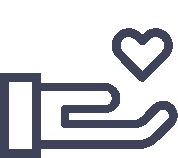 "Whoever is generous to the poor lends to the lord, and he will repay him for his deed."